While the piece chosen for the month of September has all sorts of different names: skateboard, skate, longboard or shortboard…, one thing we do know is that its popularity is on the rise. Did you know that the rear part is known as the tail, and the front as the nose?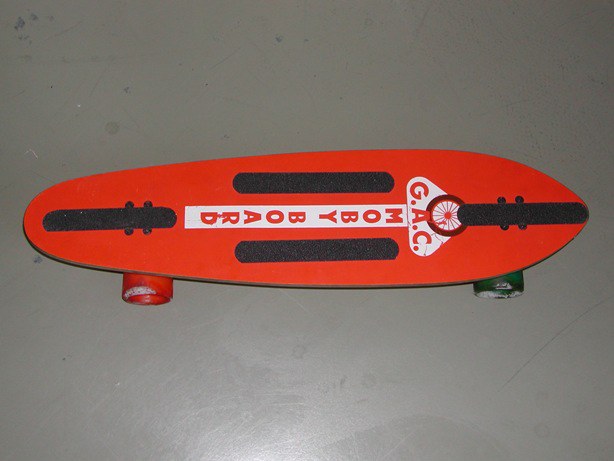 This toy or means of transport was invented in 1963 in Malibu, California, by surfers Micky Muñoz and Phil Edwards. Initially intending to surf on land, they took the wheels from roller skates and fixed a board to them. They called their invention the Surf Roll.
In the '60s skateboards had rubber wheels, but their poor grip caused numerous crashes and accidents. In the '70s, the manufacturers started to use urethane wheels, greatly improving their use.
A skateboard is usually made up of the following parts:
• Board: in different sizes and shapes, depending on the use to be made of it, although the best known are those made in oak. Grip tape is glued to the top of the board to prevent the user from slipping.
• Axles: hold the wheels in place.
• Baseplate: normally in the same colour and material as the axles; fixes the wheels to the board.
• Wheels: like the board, these can come in different sizes and materials, depending on their use.
• Skateboards also have risers, bolts, and bearings.
This piece, donated to the museum by José Luis Valenciaga, is a MobyBoard model made by GAC in the '80s. It is made in orange-coloured plywood and has soft wheels in different colours with narrow axles. Although it was hugely famous in its day, we believe that this piece is a curiosity due to the fact that GAC is above all known for manufacturing bicycles and motorcycles. As well as this model, GAC produced three fibreglass skateboards with wide axles, going by the name of 'toro': one in red with blue wheels; another in orange, also with blue wheels, and the last in sparkly blue with coloured wheels.
If you're a lover of the past and want to remember the years of your childhood and youth, don't miss the chance to see this piece in the museum reception area during the month of September. Or maybe you'd prefer to share your experience with us on the Arms Industry Museum social networks.