Zenith Carburettor for the Lambretta motorcycle
This month of February, the Arms Industry Museum presents the exhibition "Motorised Bicycles from Eibar", offering an interesting retrospective of the early days of producing motorcycles and their components in our town.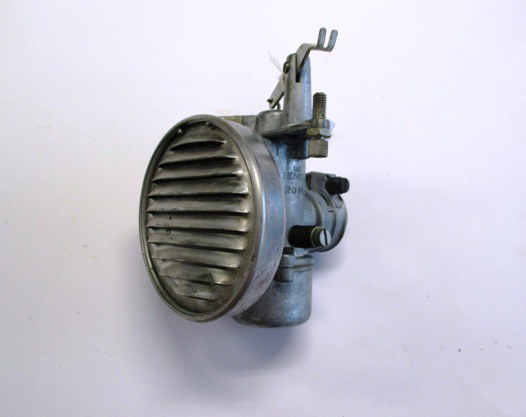 Our piece of the month is therefore this Zenith 20 MX carburettor for Lambretta motorcycles produced in Eibar, a key piece which also represents two of Eibar's major companies in the 20th century: Carbureibar S.A. and Lambretta Locomociones S.A. Manufactured in 1958, this Zenith carburettor was produced for the early models of Lambretta motorcycle, an icon in the Eibar of the sixties.
The carburettor, an invention created in the mid-19th century, is the part of the combustion engine responsible for mixing air and fuel in the correct proportion prior to entering the combustion chamber. The arrival of high cylinder capacity in the eighties meant that system gradually lost its popularity. Today combustion carburettors and engines have become obsolete with the use of new injection systems and the advantages they offer with respect to demands for power, consumption, reliability, and a reduction in air pollution. However, some experts, perhaps somewhat nostalgic for the past, are considering the possibility of recovering these combustion systems given the new technological advances achieved thanks to the use of microcircuits and new research carried out in the mechanical sector
In any event, what will no longer be possible is for Carbureibar or Lambretta, the manufacturing giants of Eibar's industrial past, to participate in these new processes of industrial research.
Created in 1957 and 1952 respectively, both companies developed their business activity in the automotive industry, taking their first steps with a foreign licence to produce and later developing their own products. In fact, Carbureibar started its activity with the manufacture of carburettors under the French license Zenith, proceeding to create its own carburettors for motorcycles, cars, and walking tractors, as well as vacuum pumps for brake systems and mechanical fuel pumps. Following its move to the neighbouring town of Abadiano in 1971, and its complete incorporation into the Pierburg group in 1991, today Carbureibar is a company belonging to the Kolbenschmidt Pierburg AG Group, dedicated to the manufacture of parts for the reduction of exhaust emissions, secondary air management and brake systems in the automotive sector. Once again, singular companies which, adapting to current market systems, have enabled our industry to innovate, diversify and grow.
If you're interested in the motoring world and would also like to know a little more about our industrial history, come along and visit this interesting exhibition.