Silver Car Suspension System
This November, the "XII Science, Technology and Innovation Week" is scheduled to take place in the Basque Country. This important European initiative aims to help generate an environment more favourable towards science, technology and innovation. Thus, to participate in the proposal, as our piece of the month we present this Silver Car suspension system for racing cars, created in Eibar by Engimek Ingeniería. Unquestionably a fine example of technological innovation "made in Eibar".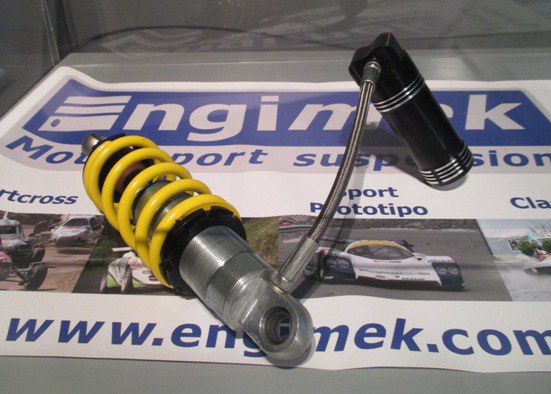 Generally speaking, racing car suspension systems are highly sophisticated, unlike those of production vehicles. These are systems designed to absorb the bumps and jolts experienced while racing, and to rapidly stabilise the car when it hits the ground again after a jump. In other words, these systems must enable perfect adjustment and configuration to suit the kind of driving, the driver and the condition of the terrain; they are therefore considered to be a fundamental part of the vehicle.
This Silver Car system for CM vehicles in aluminium and carbon steel consists of a coil spring and high-pressure gas monotube-type shock absorber permitting height adjustment of the vehicle and making this a specific system for racing cars. This suspension system was custom designed and manufactured by the company from Eibar, Engimek in 2009 for a specific vehicle: the Silver Car S1 model.
Silver Car is a company from Navarre specialising in racing vehicles approved by the FIA. These models are specially designed to compete in the CM Category of mountain and circuit championships at national level. In fact, in 2009 and 2010 respectively, driver Pedro Roca won the Spanish Mountain Championship at the wheel of a Silver Car S1 fitted with suspension by the company from Eibar, Engimek. Other drivers, in similarly equipped vehicles, went on to win the same competition in successive years.
If you're interested in cars and technology, we invite you to visit the museum this month where, as well as this piece, you will be able to enjoy an extensive look at the industrial history of our little town and the technology it produces.