Años 50.
Piece of the month
Making the most of the temporary exhibition of bicycles made in Eibar in the 50s, our chosen piece of the month for October is this leather bicycle saddle by Orbea.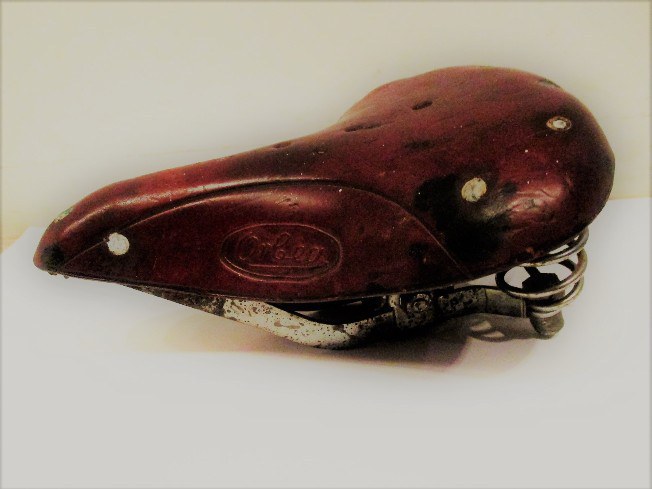 The saddle has an iron base, two springs for good cushioning and nine copper rivets. The maker's logo is visible on both sides.
The first leather bicycle saddle was made in Birmingham by JB Brooks & Co. John Boultbee Brooks who left his Leicestershire hometown with 20 pounds in his pocket, founded a company in 1866 to make horse reins and leather articles in general. In 1878 Mr. Brooks lost his horse; being unable to replace it, he asked for the loan of a bicycle to ride to work. He found the saddle so uncomfortable that he set about looking for a solution, and on 28th October 1882 patented his first leather saddle. The new product was a success all over Europe.
In 1927 JB Brooks & Co. launched the "B66CH Champion" model, the most popular saddle of its time, very similar to this one by Orbea, with two springs and copper rivets.
Around the same time Orbea Hermanos y Cía left the arms business to start making bicycles. But what are Orbea's origins?
The first seed was planted in Eibar in the mid-19th century by brothers Juan Manuel, Mateo and Casimiro, with short steel-bladed instruments being their star product and the government their main customer. The Orbea factory was also a pioneer in electric power installations. In the 20th century, after the golden era of weapon making in Eibar with the sale of arms to the allied armies during World War I, demand fell and a limit was placed on weapon exports, prompting the company to take up new products and make the most of their skill with piping. By the 40s, Orbea was already employing 1,000 people and producing 50,000 bicycles a year.
During the 30s and 40s, saddles, together with tyres and wooden rims, were pieces brought in from places other than the mother company, for the quality of which the suppliers themselves had to respond. However, by the 60s, everything, except the rubber tyres, was being made at the Orbea installations.
By way of an anecdote, saddles of this kind, which can be seen in photographs and catalogues of Orbea bikes in the 40s and 50s, take around 800 km of riding to wear in, but from then on, they tend to be incredibly comfortable.
Donated by: Carlos Narbaiza