Damascene cigarette case by Pablo Sarasua
Inicios siglo XX
Piece of the month
On January 18th the Arms Industry Museum will celebrate its 11th anniversary and it has received a marvellous gift ahead of time: a damascene cigarette case by Pablo Sarasua.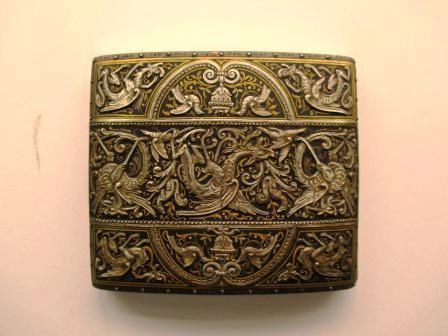 The incrustation of precious metals in iron or steel is a technique above all attributed to the Arabs of the Middle East. However, it would seem that the Greeks and the Romans too were familiar with this kind of engraving. With respect to the Basque Country, we know that by the 17th century both firearms and steel weapons were engraved, particularly using the ataujía and niello techniques. These two procedures can be considered cousins of the damascene work developed by Eusebio Zuloaga in Eibar.
To embed the gold thread in the steel, Eusebio Zuloaga would prepare the surface by carving out little diamond-shaped grooves with a bradawl. Thanks to this system, the rough surface became ideal for embedding the gold thread into almost microscopic grooves to create highly elaborate images. This damascene system was improved by his son Plácido. He realised that, when observed with a magnifying glass, the grooves made with the bradawl were irregular. He therefore came up with the idea of carving the grooves with a knife, making for faster work on a more precise and regular surface. This system meant that damascene could be used to decorate more objects, like this cigarette case, and not only to embellish weapons.
The cigarette case is damascened by Pablo Sarasua (Eibar 1885-1969). Married to Gregoria Gisasola, Sarasua was one of the finest damascene craftsmen in Eibar, particularly when it came to shading and relief work. In fact, the trade and skill had been passed down through his family. His father Donato had studied under Plácido Zuloaga and opened his own workshop at Calle Errebal 16 in 1857. At the age of only 27, Queen María Cristina gave him the Cross as Knight of the Order of Isabella the Catholic for his merits as an engraver. Pablo's work was also recognised worldwide when Pope Pius XI received him personally at a special audience. The shading technique is enormously important in damascene work, since it brings the images to life. The shading is clearly appreciable in the allegoric images of this cigarette case.
This little gem is a donation by Joseba Sarasua Gisasola made in December 2017. But it is not the only piece donated by the family, given that the March piece of the month was an amphora in damascene work by Pablo himself also belonging to the family.
Come on along to the Museum and take a close look at these works of art made in Eibar!