Pinstriped bicycle components
As it has been on every March 8 for more than a century, International Women's Day will also be celebrated this year. That's why, joining the call for women's rights and equality, we present as piece of the month this series of accessories for women's bikes made in Eibar: a chain cover by Beistegui Hermanos, and two decorative bike head badges by GAC and Orbea. Decorated using the artisan technique of pinstriping, these pieces undoubtedly pay tribute to the important work of women in developing both the identity of our town and our industrial history.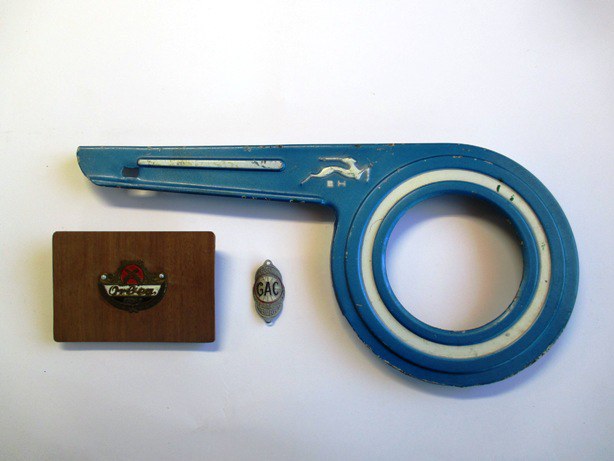 Historically considered as a model of industrialisation, in the early 20th century Eibar already had three legendary companies: Beistegui Hermanos (BH), Gárate, Anitua y Compañía (GAC) and Orbea, businesses initially dedicated to the prosperous and flourishing arms industry. However, at the end of the First World War, Eibar's weapon sector was hit by a crisis such that they were forced to find new ways to make a living, resulting in our industry's first steps towards diversification. In this context offering no other alternative but innovation, Beistegui Hermanos, GAC and Orbea, like many other companies, and without initially abandoning arms production, started to make bicycles. After several decades of reorganisation and with a completely new activity, all three companies enjoyed great commercial and economic success which became particularly notable following the post-war years. It is precisely in this atmosphere of post-war recovery and of industrial growth and prosperity adapted to the new times that the women of Eibar would occupy an important part in the machine-tool sector. However, there would often be no trace or professional representation of those women in the municipal records.
Our pieces of the month demonstrate the specialisation of a meticulous task carried out by women, which in turn required great skill and finesse. An artisan decoration technique obsolete today due to new industrial techniques, pinstriping or decorative painting reflected the quality and prestige of the brand that produced it. This work was especially carried out by women at Orbea, GAC and Beistegui Hermanos.
As well as those jobs, we have evidence that women were also involved in preparation work prior to painting, attaching the parts on supports for submersion in chrome and nickel baths, packaging, assembly, wheel centring, and even in the areas of foundry and forging. Often the work was hard and the conditions poor, with no measures of protection and using polluting substances, jobs which would now be considered toxic and hazardous. Fortunately, today women's working conditions have improved, and there have been many social changes and transformations, although our society still has to overcome important social and economic challenges if it is to improve the condition of women and their equality.
We invite you to visit the arms museum, where you can learn more about the work of the women of Eibar, ordinary women, the architects and builders of our history.