Frame with damascening by Felipa Guisasola
1855-1939
Piece of the month
This June, the Arms Industry Museum is pleased to present as its piece of the month its latest acquisition: an artistic damascene frame with its original case, made by the artist from Eibar, Felipa Guisasola (1852-1939)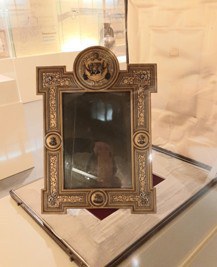 The daughter of Miguel Antonio Guisasola and Josefa Gabiola, Felipa Guisasola Gabiola was born on April 30, 1852. Her father died when she was a young girl and, with basic drawing skills acquired at the Municipal School of Drawing, Felipa started damascening work in her childhood to help sustain her family. Evidence shows that, in the year 1865, on the occasion of the visit by Isabel II to Eibar, an exhibition of local work was organised in which the young damascene worker participated. As a result and given the interest she awakened in the queen, Felipa was awarded a yearly scholarship of 1,500 pesetas to further her studies. Thanks to the grant, she was later able to perfect her drawing with Placido Zuloaga and to develop her art until becoming a leading light in damascene work from Eibar.
Considered a pioneer in the art of damascening and with a special knack for this artistic technique, Felipa Guisasola went on to become a teacher at the Municipal School of Drawing. A transmitter of the art for decades, she enabled the learning and apprenticeship of future generations of female damascene workers.
As a trader, in her lifetime Felipa opened different damascene factories and studios in our town, even going as far as to open a business with her own artistic creations in Madrid. That was the period when she received the Grand Diploma of Honour at the Madrid Exposition in 1892, later followed by other international distinctions and awards.
With respect to our piece of the month, we can say that this is an exceptional example of damascene art from Eibar. Winner of the Grand Prix for Progress and Gold Medal at the Brussels International Exposition in 1888, as well as its exquisite damascene technique, this piece demonstrates the diversity of techniques combined by the great artists in their creations.
Worked in fine detail, this damascene frame features embossing work, the engraving of raised figures in iron, blackened areas, punched finishes and delicate artistic decoration. As a finishing touch, our piece comes with its original case, a luxurious gold-embossed leather box.
If you'd like to enjoy this extraordinary key piece in the history of gunsmith damascening, come along to our museum, where you can see it on display in our permanent exhibition gallery.