"Alfamatic Model 103" Sewing Machine
Años 40
Piece of the month
The '40s As it approaches its hundredth anniversary, for the December piece of the month we have chosen this representative Alfamatic model 103 sewing machine by Alfa, a company which undoubtedly constituted a landmark in our town's industrial development.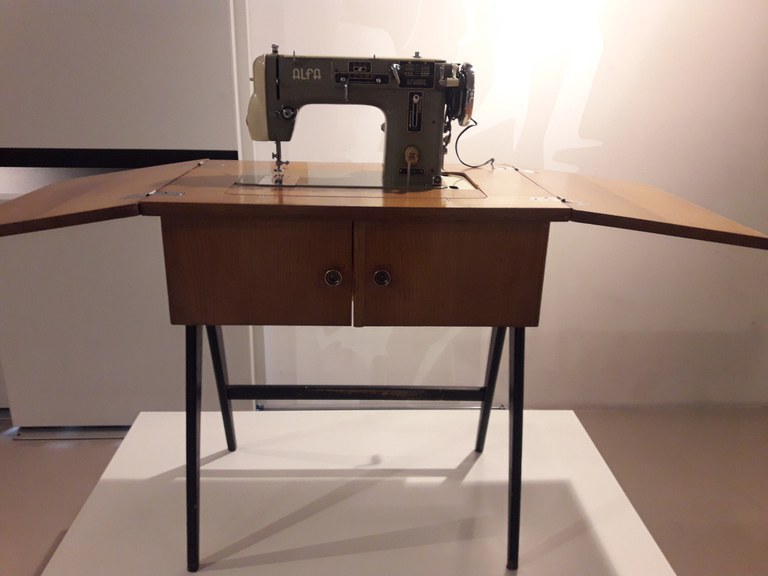 An icon of modernity in another decade, the automatic Alfa model 103 is a universal machine for straight and zig-zag stitching, fitted with a shuttle producing two revolutions per stitch, an articulated thread take-up, a pattern selection switch, and a special mechanism for constant stitch length. While this model largely targeted the household market, it was also used in the dress and tailor making industry. 
Created in 1920, as the "Sociedad Anónima Cooperativa Mercantil y de Producción de Armas de Fuego Alfa" by a group of socialist workers, Alfa introduced a pioneering new model of business: the cooperative. In fact, establishing a model to be followed, Alfa was the first industrial cooperative in Spain where all of the workers would be shareholders and therefore owners.  
Initially dedicated to the production of "Smith & Wesson" revolvers, by 1921 Alfa had registered its own brand of firearms. However, the early arrival of the crisis to the arms sector in 1925 obliged the company to turn its production to other sectors, unequivocally demonstrating the historical ability of arms businessmen to adapt. That's how the manufacture of the famous Alfa sewing machines began. The choice wasn't made exactly by chance but was rather the result of having to develop a product that was technically compatible with the existing machinery and the skills of the workforce in order to make the most of the available industrial infrastructure.
Continuing with its industrial development, Alfa became the first sewing machine company in Spain, constituted in 1940 in the shape of a new cooperative society revamped as: "Máquinas de coser Alfa, S.A.". It was in this decade that the company started to export sewing machines worldwide, creating its own commercial network with branches and agencies, and achieving a capacity of distribution to more than seventy countries.  
Given the new direction of its industrial activity and business reorganisation thanks to the participation of private capital, for some decades sewing machines have no longer been Alfa's star product.
However, reflecting the obvious renovating and entrepreneurial spirit of industry in Eibar, Alfa sewing machines represent an important milestone in the history of the town and its industrial heritage, an interesting and extensive selection of which can be seen at our Arms Industry Museum.