Mediados siglo XX
Piece of the month
To celebrate International Women's Day on 8th March, the chosen piece of the month is a lady's GAC bicycle, dating from the mid-20th century.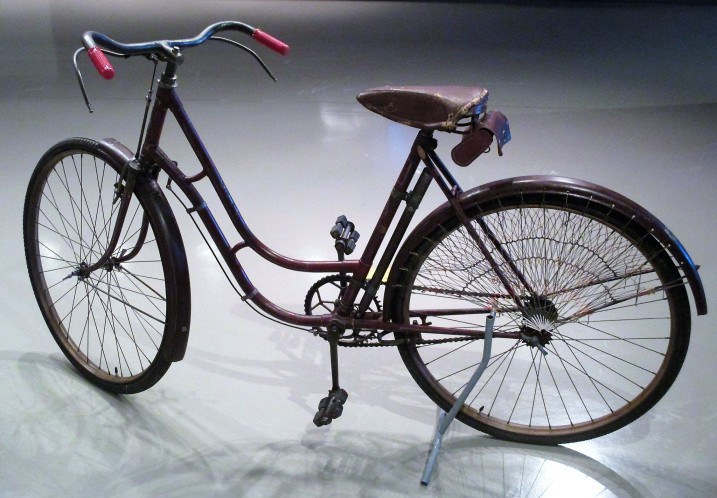 We mustn't forget that bicycle making and cycling have deep roots in the history of Eibar and that its origin, of course, lies in the arms industry. After the arms crisis of the early 20th century, many manufacturers converted their old machinery to meet the new needs. Outstanding in this sector were big companies like GAC, Orbea and BH. However, we mustn't forget other smaller workshops whose work was also important: Nicolas Arregui, Zeus, Cil, Gamma, Abelux and Echasa-Fenix.
The golden age of cycling in Eibar occurred between 1952 and 1974, a period of excellent cyclists like Cándido Arrizabalaga "Apotxiano", José Mardaras Nazabal, Andrés Arriaga "Basarri" and Félix Gojenola. But this time round we'd like to turn the spotlight on the name of María Magunacelaya, one of the female cyclists of the time, and who also won numerous races.
María was born in Ermua in 1904, and she was nicknamed Maoma, like her father. She worked from an early age making cartridges with her father, also starting to cycle in around 1925, when she would ride her brother's GAC. Given that at that time only a very few women rode bicycles, she bore the brunt of constant insults. At the end of the Civil War, she stopped cycling and turned to motorcycles; she could regularly be seen on her Lambretta. This extraordinary woman died in 2000, and her ashes were scattered on mount Arrate.
As well as being cyclists, women's work in bicycle-making is highly remarkable. Among other jobs, they were excellent at assembling, painting and putting the final touches to the bikes, as well as packaging. According to a mid-20th century census, 6% of workers were women, although the percentage must in fact have been higher. The differences between men and women were enormous, particularly in respect to wages, rights, time off and job classification.
We must also point out that GAC was a pioneer in hiring women to work in their workshops in around 1925. This company founded by the Gárate family in 1892 was initially dedicated to manufacturing arms, particularly automatic pistols and revolvers, although they also made rifles and shotguns. In 1897 they changed their definition of workshop, which had maintained a staff of 32 workers until then, to become a factory. After the First World War they were obliged to reinvent themselves and diversify; hence, in 1927, as well as arms they started to make bicycles. To do it they simply had to adapt the machinery they had used to make the barrels for their weapons. In 1930 they completely stopped making arms and focussed solely on bicycles.
The bicycle we have chosen as piece of the month has a typical lady's frame; it is maroon in colour and has white painted details on the frame and mudguards. We can see the GAC shield on the vertical bar, beneath the saddle, and the plaque identifying the company on the vertical bar underneath the handlebars. Another of the characteristics of lady's bikes at that time are the "skirt-protectors", a net deliberately fitted over the back wheel to prevent skirts and dresses from becoming tangled in it.