Kitchen utensils by Industrias Albizuri
Now that Christmas is just around the corner and we'll be spending hours in the kitchen, our chosen piece of the month is a selection of kitchen utensils by Industrias Albizuri.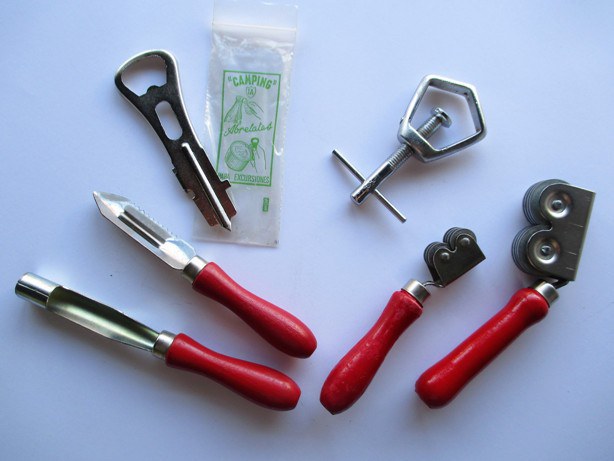 Industrias Albizuri was founded by siblings Ángel and José Albizuri in 1945. They initially machined parts for the automotive industry but soon started to make dies, hardware and snap rings for safety belts.
They first of all set up shop in ground floor premises in the Calle Víctor Sarasqueta, formerly Calle Grabadores, not far from the family home. In the late 50s they moved the company to the area of Legarre, where they continued their activity, exporting to countries in both South America and Europe, until they closed their doors in 1995.
They mainly concentrated on producing bradawls and snap rings, and their kitchen utensil range was more of a side-line; but even so we thought it was interesting to show the public this selection of pieces, since they are part of Eibar's industrial history and heritage.
From the dozens of pieces in our possession, we chose four in stainless steel with red wood handles: a potato peeler, an apple corer and two knife sharpeners (one large and one small). Also, given that they are unusual pieces, we have selected a nutcracker and multi-use tin opener "for outings", both in stainless steel. Also in the exhibit is a list of Industrias Albizuri prices and a visiting card.
If it's cold outside, come along and see these pieces in the Museum!
These pieces were donated to the Arms Industry Museum by Ángel Albizuri Ormaechea in April 2011.