The '70s
Piece of the month
Winter food doesn't come much better than a traditional stew. That's why, this month of February, we've chosen this marvellous electric pot made by Solac as our piece of the month.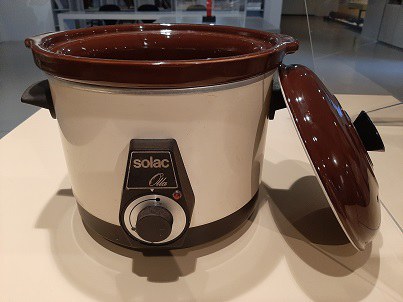 These pots, also known as slow-cookers, can be programmed by the user to cook at constant temperatures of 80-100ºC, resulting in stews with a delicious flavour reminiscent of days gone by. The first pots of this kind were commercialised in the '70s by the Naxon Utilities Corporation, and versions made by Eibar's Solac brand came onto the market a few years later. This type of pot has a ceramic pan, the part where the food cooks, and a metal base from which the heat is generated by electricity.
Solac, a company founded in 1916, remained in Eibar, first of all in Matxaria and later in Txonta, before finally moving in 2003 to Vitoria where its main plant was already installed. It was always closely associated with small household appliances despite its first products having been dedicated to industrial food production. They made coffee makers and flat grill planchas almost exclusively from the time of their foundation. In 1955 they started to diversify their output, making their first toasters. In 1979 they launched the world's first hydro-pressure coffee machine, which greatly increased the speed of coffee making. A few years later, in 1983, the company would launch its last new product: the first milk warmer to appear on the market.  
Solac was and is a company dedicated to household appliances; that's why its products are renowned for their high quality, yet another example of the excellent work produced down through the years of Eibar's industrial history.
This piece was donated by Pilar Gutiérrez de Tejada.