The piece we've chosen for April is a bike, but not just any old bike: this is the first stationary bike produced by the famous B.H. brand.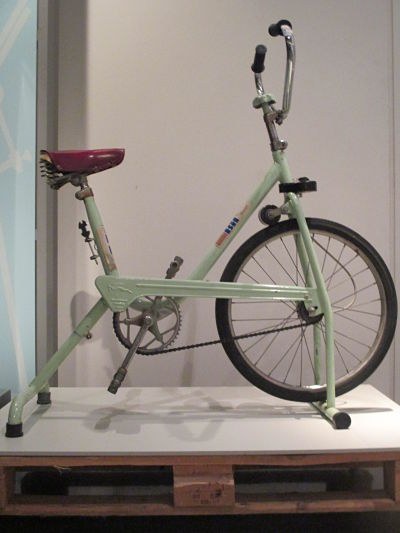 The letters B.H. stand for Beistegui Hermanos, originally from Eibar. It was created in 1909 by three brothers (Domingo, Juan and Cosme) who had started out as weapon makers. But when the arms industry was thrown into crisis after the end of World War I, they began making bicycles in 1923. In no time they had a cycling team and were organising races. However, in 1959, realising the lack of suitable space to continue growing in Eibar, the company moved to Vitoria. It was one of the first big companies to leave Eibar, an early sign of the business exodus which was to spread in the 70s.
Today it is still a famous brand, particularly for being the first European manufacturers to produce mountain bikes (MTB in English) and for their international expansion. It is interesting to note that their Vitoria plant has been closed since 2012; today the company only produces in Portugal and China.
The bike we see here is a stationary model controlled by mechanical brake. It only has a front wheel, connected to a chain and a brake. The brake friction prevents the user from freewheeling and its resistance can be adjusted using the knob (between the two handlebars) to obtain a gentler or harder pedalling strength. It is pale green in colour, with a red leather sprung saddle and metal handlebars. It also comes with a chain cover printed with the brand name and the drawing of a gazelle. B.H. Gacela was one of the company?s brand designs and it brought out several models, particularly in the 60s and 70s. The chassis has two stickers displaying the company?s former logo (a red cyclist) and giving information about the bike in Spanish and English, such as the name of the patent and the year and place of production: Vitoria 1959.
Thanks to this information, we know that this was the first model of stationary bike made at the new Vitoria plant. The stickers also tell us that the chassis is arc welded, i.e. that the parts are joined by electric welding. Lastly, the bike has three frontal elements that make it even more unique: a manual timer for up to 30 minutes, a speedometer and a kilometre counter. As an accessory, it has a key at the back to adjust the height of the handlebar, the saddle and the rear of the chassis to suit different users. This is a delightful gem of the cycling world, a unique piece that surprises us with a new detail every time we look at it.