Damascene amphora by Pablo Sarasua
Inicios siglo XX.
Piece of the month
Amphoras are vessels used since ancient Roman times; they are recognisable for their long neck and two handles. They have had myriad purposes down through history, but their best known use is for storing wine or oil.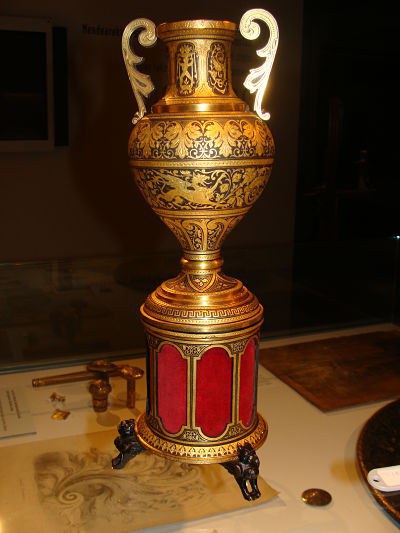 This said, the small size of our piece (33 cm tall) and the material used to make it lead us to believe that it was conceived for ornamental purposes. While amphoras are generally made of clay, the one we have here is iron, since damascene ware can only be made with iron or steel.
Damascening is a technique whereby fine strands of gold or silver are used to create drawings; it was first used and revamped in 19th century Eibar by Eusebio Zuloaga. With time it became the town's most famous and highly appreciated technique, particularly for decorating weapons. When Eusebio's son, Plácido, improved the procedure by introducing the cutting technique (which meant "preparing" the metal by making incisions in three directions before inserting the thread), damascene use spread to other kinds of objects, such as this piece.
Pablo Sarasua (Eibar 1885-1969), one of Eibar's greatest damascene artists, made this amphora somewhere around 1948. He was particularly skilled at shading, the technique that brings damascene figures to life and can be particularly appreciated in the beautiful animal figures featured on the amphora. We must remember that Pablo inherited his trade and skill from the family, since his father was Donato Sarasua, an apprentice under Plácido Zuloaga and creator of the Sarasua Etxea damascening shop in the Calle del Rabal.
This piece was given to the museum in 2014 by Joseba Sarasua (Pablo's son). He also donated numerous tools used by his father. That same year Naría Asun Nogues restored the amphora to ensure that it would maintain its ancient splendour for many years to come.