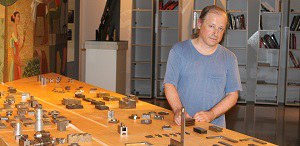 Intervention by the artist Ibon Aranberri at the Arms Industry Museum
Intervention by the artist Ibon Aranberri at the Arms Industry Museum within the Peace Treaty project organised as part of San Sebastian 2016.
By making an inventory of shapes, "Makina eskua da" proposes a look at the common material legacy, illustrating how the arms industry morphed into the civil industry in the surrounding areas. Over the last year, artist Ibon Aranberri has researched exercises and pieces from the schools and factories at whi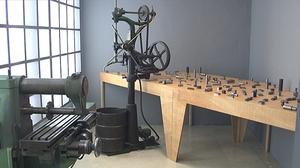 ch the processes of technical and manual apprenticeship took place. Thus, with the coordinator Nader Koochaki and a number of volunteers, the artist has worked on the change in meaning of the pieces until distinguishing them from the purpose for which they were originally conceived.
Following an initial presentation on June 5 displaying the contents compiled, Ibon Aranberri has gradually transformed the Eibar Arms Industry Museum space in order to propose a new physical sequence in the shape of a linear organisation extending beyond the museum architecture.
Two kinds of exhibition are therefore superimposed in a single space: the educational-themed itinerary of today's museum and the rigid formalism of the informative exhibitions of the past.
"Makina eskua da" is part of the Afueras initiative of the Peace Treaty project organised by San Sebastian, European Capital of Culture 2016, and has the collaboration of the Eibar Town Council, the Eibar Arms Industry Museum and the Armoury School.
The exhibition will run until September 16, 2016.
Ibon Aranberri
Originally trained as a sculptor, artist Ibon Aranberri works in a wide variety of formats, including sculpture, photography, cinema and collaborative practices. His work focusses on human intervention in the natural environment, analysing the complex superposition of the history, culture, aesthetics and politics that surround us. His works have shown at individual exhibitions in institutions including the Vienna Secession, Fundació Tàpies, Museo Nacional Centro de Arte Reina Sofía, and Kunsthalle Basel, among others. In 2007 he was invited to join Documenta 12.
Peace Treaty.
Peace Treaty is the most ambitious project of San Sebastian 2016 and is sponsored by Telefónica. As well as the seven artistic interventions of the Afueras initiative, with the participation of artists such as Ibon Aranberri, Asier Mendizabal, Mitra Farahani, Eduardo Molinari/Archivo Caminante, Juan Luis Moraza and Alejandra Riera, the project includes a central exhibition, 1516-2016. Peace Treaties, running at the San Telmo Museum and the Koldo Mitxelena Kulturenea, seven case studies and a monographic study running throughout the territory of Gipuzkoa.