Eibar's Bicycle making Industry in the Carlos Narbaiza collection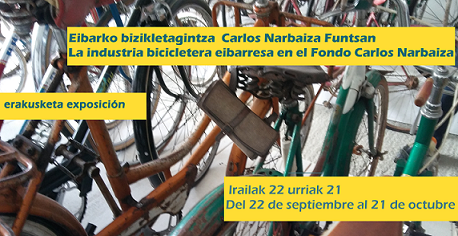 September 22 – October 21
For yet another year Eibar Town Council participates in the European Mobility Week with a display of bicycles and components from the Carlos Narbaiza collection manufactured by Eibar's auxiliary industries.
From September 22 and until October 21 inclusive, the Eibar Arms Industry Museum will run an exhibition of bicycles made in Eibar. The display will include bicycles by Abelux, BH, Cil Orbea, GAC and Torrot and bicycle parts such as chains, gears, pedals and bells made by Eibar's auxiliary industries.
This exhibition will therefore showcase some of the articles donated in 2015 by the family of Carlos Narbaiza to the Eibar Town Council with a view to expanding the Arms Industry Museum collection.
The exhibition includes 14 different kinds of bicycle: kids, junior, racing, city... made from the '60s to the '90s, retrieved by Carlos Narbaiza and restored in recent years.