From the workshop to the office. Eibar´s products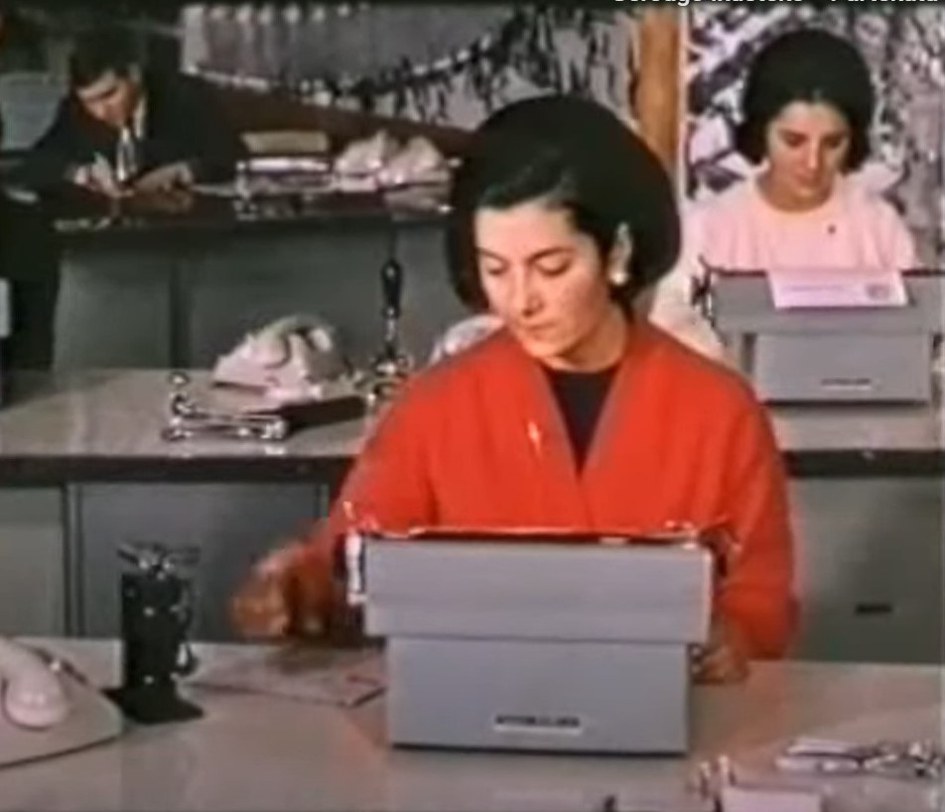 From May 18 to October 1, 2023
Eibar's industrial diversification gave rise to the manufacture of an endless number of products 
of all kinds. On this occasion, the funds of the collection leave the warehouses to show us the place 
occupied by products manufactured by brands such as El Casco, Simes, Laster, Triunfo Dex, Agra, ... 
equipping offices and offices.

Free entrance.
The Offices
In addition to employing staff to work with the machinery, the factories and shops needed people to conduct administrative tasks. These tasks were mainly carried out by women who thus began working outside the home: secretaries, archivists, typists, telephone operators and, to a lesser extent, draughters and designers.
The offices were normally in prominent spaces in the factories, and many of them became the companies' letter of presentation.
Large corporations, institutions, and banks also needed important offices, located in the best districts of large cities.
Initially, material was very limited, along with the elements in the staff work space in offices. There was only a chair, desk, pen, paper, and cabinet, where the huge amounts of documents they processed would amass. Later on, with the advent of the typewriter, work was greatly streamlined, which led to a huge revolution in how people worked in offices.
In the 20th century, there were minor transformations, but the space remained practically the same, especially between the 60s and the 80s. On desks, the following began to appear: staplers, numbering devices, letter openers, and chairs and desks adapted to new needs. It was in the 90s, with the mass arrival of computers, that office spaces had to be reinvented.
Space in Offices
Personal offices, offices next to production shops, technical offices, administrative offices: purchases, accounting, correspondence, payslips, etc.
Repetitive, monotone work was king at the office, and there was a hierarchy and control over employees. It was technological progress, desktop objects, and new technologies that streamlined work.
The industrial techniques implemented in shops were transferred to the first offices organised into rows of desks. These places became open spaces, organised by tasks that went from one desk to another and from one department to another like a production chain.
In the 60s, the rows of desks were eliminated, and they began designing a planned system with broad spaces that were well-lit and equipped with amenities.
In the 80s, offices spaces began to be divided into cubicles at a time when middle management was on the rise: an economic way to re-adapt the existing space. With the 21st century in full swing, new offices now seek out more collaborative, open spaces, where workers have more possibilities for contact amongst one another.
Typewriters. The Office Revolution
Until well into the 20th century, documents were written in offices by hand. On more than one occasion, this put a huge delay on work. There were attempts to develop an automatic way to write. However, typewriters were not sold until the 1870s. The first company to do so was the well-known US brand Remington.
Around 1920, typewriters overcame the initial difficulties and reached a standard design. Although there were differences between one model and the next, all machines more or less used the same mechanism: each key was joined to a typebar with the corresponding character in relief on its other end. When one pressed a key, the typebar struck an inked ribbon pulled in front of a cylinder holding the paper, moving back and forth. This is how characters were marked on the paper.
Thousands of women were in charge of using these machines, which boosted their mass entry into the job market
Today, this invention is still used in application to computers.
Diversification in Eibar's Industry
Dynamism, Adaptation, Creativity, Design, Resilience, Innovation.
The historical crisis in the arms industry in the 1920s pushed Eibar's companies to seek out new markets and begin to manufacture new products. Pistols and revolvers gave way to thousands of objects that filled homes, and many offices at many factories, companies, and institutions.
Eibar's industrialists were paying attention to new working needs in offices. Shops and offices needed to work in harmony and symbiosis, like a perfect gear, for everything to work properly.
Some companies in Eibar started from scratch with the new objects that offices needed and that had an interesting market. Other companies saw in offices and their new needs a huge possibility to start a new business and diversify their production.
In addition to cutting-edge machines and facilities, companies needed desk items, typewriters, furniture, drawing tables, cabinets, file cabinets, and of course the right paper for each occasion: writing paper, letter paper, carbon paper.
Know-how and design were a must in all of this.  They were able to innovate from nothing, creating items where each historical moment's industrial and social culture was and is present.
Companies like Manufacturas El Casco, Agra, Simes, Serveta, Laster, Imperial Española S.A., Boj, Orozco&Echeverría.
Companies and Their Products
BOJ
Company created in Eibar by Manuel Barrenechea, Bernardo Olañeta and Vicente Juaristi in 1905. It has been located in Matsaria since 1937, where it continues its activity. in 2022, it was declared a Monument for its heritage value.
Initially, its activity was focused on stamping different kinds of engravings on medals, buckles, insignias, and keychains. Fifteen years later, its founders introduced new products, like electric razors, locks, the first can openers, corkscrews, and desk items like paperweights. In the fifties, they expanded their household line with potato peelers, nutcrackers, knife sharpeners, and the automatic corkscrew that was patented in 1955.
Imperial Española S.A.
The Patria typewriter was invented by Otto Haas and manufactured in Switzerland in early 1936. The aerodynamic body was designed by Max Bill in 1944. After the war, "Patria" became the base for portable typewriters in several countries in Europe.
"Patria" was registered as a brand in 1945 by the company from Eibar Imperial Española S.A , which began producing it in 1947. "Swiss and Spanish technology together produced this jewel of typing art for you" was the ad slogan. "Patria" was recommended for everyone who needed to bring their job home but did not want to make their place of residence look like a sombre office. "Patria" was distributed in Spain by Guillermo Truniger SA to great success. The early 50s saw small numbers of them exported abroad.
In 1954, "Imperial Española" patented a design that used a one-piece aluminium frame and modified typebar rods. Around 1962, the typewriter was renamed as Amaya. In 1965, the company was operating under a new name: Industrial mecanográfica, or IMESA.
IMESA patented a design that could write on flat surfaces, similar to a Gritzner, but we do not have information on its production. Machines with different variants were manufactured, including different frame colours and styles and minor variations in terms of the mechanism. For example, control for the ribbon colour, normally located to the right of the printing point, was moved to the right of the keyboard.
IBM'S electronic machines were also assembled at IMESA.
Laster S.A.
In the early 50s, the company Laster was founded in Eibar. It worked in the manufacture of squares, triangles, marking gauges and pouches, and high-precision illustration, as well as items for students and beginners, compasses, plumb lines, bow compasses, etc.
In 1970, the company extended its product line and created clay for technical drawing and pens.
In the early 80s, they began producing computer material and, years later, office furniture.
In 1981, they employed 106 people. In 2011, they were purchased by the furniture company Azcue from Azpeitia.
Olave Solozabal y Cía Manufacturas El Casco
The company Olave, Solozabal y Cía was founded 27 September of 1920 by two former employees of Orbea y Cía, Don Juan Olave y Bilbao, from Eibar (Gipuzkoa), and Don Juan María Solozabal Mendive, from Markina (Biscay).
Initially, their activity was mainly focused on manufacturing high-quality "Smith & Wesson" type swing-out cylinder revolvers. In 1930, "Olave, Solozabal y Cía" left arms activity and began manufacturing office material: staplers, pencil sharpeners, numbering devices, and desk items. They garnered international prestige under the brand "El Casco", which they registered under their name under the office material section.
The Pencil Sharpener
It was designed by Ignacio Urresti from the EL Casco company in 1945. The first model weighed a bit less than a kilo and a half. Its design is reminiscent of a hybrid between a coffee grinder and a vertical viewfinder camera. The handle turns the blades with a system to set the desired sharpness. The savings fall into a repository located underneath to be emptied
The Stapler
The first stapler models were manufactured in Eibar in 1935 by Manufacturas El Casco. This company applied their knowledge in arms manufacturing and precision metal work. They followed in the wake of the first staplers patented in 1866 by Georges McGill from the USA.
They were manufactured with steel and the manufacturing processed included deburring, milling, smoothing, lathing, hand-polishing, and finally a copper, nickel, and chrome bath. It is considered an icon of 20th-century design.
Its mechanism is quite simple. Staples are loaded into the magazine and then pushed with a guillotine, piercing the paper and striking the metal base that has two fissures to guide the tips of the stapler and bring them together.
To contend with the crisis in the late 70s, they decided to hire Chilean designer Guillermo Capdevilla to work on a high-performance, low-cost office material concept with ABS plastic as the base for manufacturing. They also offered high-range products with luxurious finishes. Since 2011, they have been working in Elgeta. 
The stapler is an object of decreasing importance as paper disappears from our tables and is now focusing more on the luxury market.
Orozco & Echeverria
 Orozco & Echeverria was on the way up to Txara Azpikua. They were mainly copy machine and file cabinet manufacturers.  They had a distributor in Barcelona: Estanislao K. Tintoré Grau, located on Calle Fernando 53 in this same city.  The commercial name for their products was Triunfo Dex.
SERVETA
Lambretta Locomociones S.A. was a motorcycle factory founded by Florencio Irigoyen Berrondo in 1953. They mainly manufactured Lambretta-branded motorcycles, licensed by the Italian company. In 1967, they reached an agreement with the Japanese company "Honda" to manufacture and import mopeds. After this agreement, they changed the company name to "Serveta Industrial S.A., escúteres Lambretta, ciclomotores Honda y muebles metálicos".
SIMES
In 1946, Mateo Careaga founded SIMES (Suministros de Imprenta y Material de Escritorio) to manufacture office numbering devices initially, and then staplers and staples.
After a few difficult years and several financial alliances, the company "SIMES - Careaga, Treviño y Cía" was formalised by notary on 26 April 1951. In 1966, they decided to move to Elcano, Valle de Egüés, to manage the increase in activity. Two years later, this new plant was inaugurated